US NEWS
Watching The Fall Of Mystery Babylon
03/31/15
US & WORLD ECONOMY
The euro is seen clocking up its biggest quarterly decline at the end of March since its launch in 1999—and could fall even further over the coming months.
Oil settled down for a second straight session on Monday as Iran and six world powers tried to negotiate a deal on Tehran's nuclear program that could end Western sanctions and allow the OPEC member to ship more crude into an already flooded market.
The AARP Public Policy Institute just released a survey of 2,492 people ages 45 to 70 who'd been unemployed at some point during the past five years. Its chief finding: Many are now back at work, but about half of them (48%) are earning less than they did in their former jobs.
British Airways (BA) has locked down thousands of frequent flyer accounts after a mass cyber-attack from an unknown source. BA announced on Sunday it had frozen the accounts after becoming aware its systems had been hacked on a mass scale. The airline maintained that although the affected accounts number in the tens of thousands, no personal details of frequent flyers had been accessed or stolen. BA issued an apology to customers, saying the accounts would be freed up within a few days.
WASHINGTON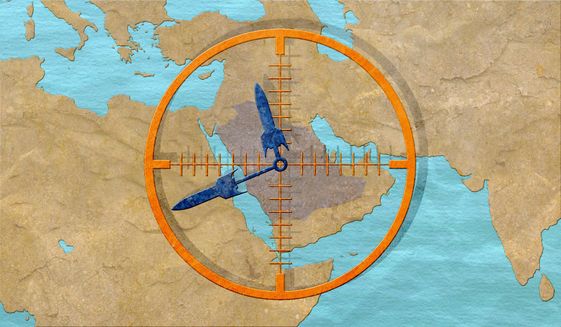 Negotiators from the United States, Iran and five other nations pushed into the night on Monday to try to reach a preliminary political agreement on limiting Iran's nuclear program. But with a Tuesday deadline, it seemed clear that even if an accord were reached some of the toughest issues would remain unresolved until late June.
During a hearing by the Senate Homeland Security & Government Affairs Committee, Tovo explained that Hezbollah, "which has long viewed the region as a potential attack venue against Israeli or other Western targets, has supporters and sympathizers in Lebanese diaspora communities in Latin America, some of whom are involved in lucrative illicit activities like money laundering and trafficking in counterfeit goods and drugs." This diaspora thing is just getting out of hand. I wish the LORD would get everybody sorted out and put back where they belong.
The U.S. Justice Department filed a lawsuit on Monday against Southeastern Oklahoma State University, alleging the school discriminated against a transgender assistant professor. The DOJ said it also sued the Regional University System of Oklahoma. The department said Rachel Tudor was denied a promotion because of her gender identity and retaliated against after she complained.
NWO GLOBAL GOVERNMENT, ISLAM & SHARIA
Administrators at a Catholic university in Florida agreed to help an honors student start a campus club that would send money and supplies to the ISIS terror army. Hidden camera footage released Monday morning shows officials and faculty at Barry University advising a senior – identified only as 'Laura' – about the best way to secure funding for a club she called 'Sympathetic Students in Support of the Islamic State of Iraq and Syria.' 'I want to start fundraising efforts on campus, and what I want to do is raise funds to send overseas,' she told Derek Bley, the school's Coordinator for Leadership Development and Student Organizations. Bley offered to help her create the organization and agreed with her request to 'pass out Islamic State flags and educate people' at an annual student 'Festival of Nations' fair.
A power surge left thousands without power for most of the day in Stockton after smart meters on their homes exploded on Monday. The explosions started after a truck crashed into a utility pole, causing a surge around 8:30 a.m. on Monday morning. When the customers in more than 5,000 homes get their power back on will depend on how badly damaged their meters are.
NATURAL & MANMADE DISASTERS
A Russian geopolitical analyst says the best way to attack the United States is to detonate nuclear weapons to trigger a supervolcano at Yellowstone National Park or along the San Andreas fault line on California's coast.
BIOLOGICAL WARFARE
The absurdly titled "Vaccines Save Lives" initiative declares into existence an alternate universe in which vaccines are 100% safe and effective. Introduced by Representatives Adam Schiff (D-Calif.), Charlie Dent (R-Penn.), Thomas Marino (R-Penn.) and Peter Welch (D-Vt.), the resolution "affirms [that] vaccines and immunizations save lives and are essential to maintain the public health, economic and national security of the people of the United States."
WORLD & MIDDLE EAST
Watching The Nations Amass Against Israel
03/31/15
IN ISRAEL
France sees a window of opportunity after Israel's elections to get the United States on board with a new push for Mideast peace, and is preparing a draft U.N Security Council resolution in about 12 days, according to French diplomatic officials. The French official described a possible "backdoor" for negotiations now, and said "all actors including the Americans now realize that all other ways have been explored, without success." Joh_10:1 Verily, verily, I say unto you, He that entereth not by the door into the sheepfold, but climbeth up some other way, the same is a thief and a robber. Reuben has a birthright issue with Judah, as I have explained in some teachings. He wants to get his birthright back and will try to do it by being the leader of those who want to divide the Land. Many of the Hebrews migrated to France, according to Jewish sources, and Gog, the descendant of Reuben (1 Crhon 5:4) is the European Union of which France is a big part. Can you see how this all ties together as Reuben trying to get back his "first" place in Jacob's family?
The Palestinians formally gain membership of the International Criminal Court on Wednesday with the aim of pursuing Israelis for war crimes, despite uncertainty over the move's wider ramifications. The accession is another step in the Palestinian diplomatic and legal international campaign, which gained steam in 2014. It has uncertain consequences, not only because it is highly unlikely Prime Minister Benjamin Netanyahu and other Israelis will find themselves being tried at the ICC, but also because it constitutes a new deterioration in the strained relationship.
...New MKs are being sworn in as the 20th Knesset holds its opening session.
In preparation for the Passover holiday which begins Friday evening, the Temple Institute in Jerusalem conducted a "drill" Wednesday for the requisite sacrificial rite. Although the sacrifice requires that the altar be standing in its place on the Temple Mount, the practice exercise was conducted for educational purposes on International Temple Mount Awareness Day.
Anonymous has threatened Israel with "the electronic holocaust" which, the group vowed, would "erase it from cyberspace" on April 7 for "crimes" in Palestine. Anonymous planned yet another cyberattack for just over a week before Holocaust Remembrance Day.
WARS & RUMORS THEREOF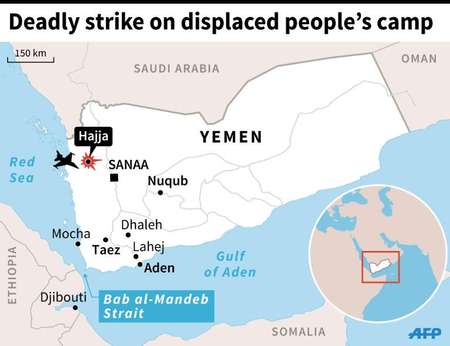 An airstrike killed dozens of people Monday at a camp for displaced people in northern Yemen, in what appeared to be the single deadliest attack since a Saudi ­Arabia-led coalition sent warplanes to target Shiite insurgents advancing across the country. As many as 40 people died and about 200 were wounded in the attack on the Mazraq camp in Hajjah province, said Joel Millman, a spokesman for the International Organization for Migration, which runs aid programs at the facility.
The Foreign Ministry said in a statement that 449 Chinese nationals left Yemen Monday evening aboard Chinese naval ships. They were headed for Djibouti on the heels of an additional 122 who arrived in the Horn of Africa nation Sunday.
A Syrian military source accused Turkey on Monday of helping Islamist rebels to stage an assault on Idlib, a provincial capital which fighters seized at the weekend. The source declined to comment on the situation in Idlib, citing security considerations, but a monitoring group has confirmed the al Qaeda-linked Nusra Front and allies now control Idlib and said the Syrian air force bombed the city on Monday.
The Russian military has deployed a self-sufficient contingent on the Crimean Peninsula, consisting of 96 units, and plans to boost its combat capability there, Defense Minister Sergei Shoigu said Monday.
A Rokot carrier rocket lifted off on Tuesday from the Plesetsk space center in northwestern Russia to deliver a trio of Gonets-M communications satellites and an unspecified military satellite into orbit, the Russian Defense Ministry said.
Free article submission sites