US NEWS
Watching The Fall Of Mystery Babylon
NEWS DATE: 04/28/16
US & WORLD ECONOMY
Americans who are suffering rate increases and higher out-of-pocket expenses thanks to the healthcare "reforms" of the "Affordable" Care Act, are about to get hit with even higher costs, after the nation's largest health insurer announced recently that it was pulling out of the Obamacare exchanges after losing a whopping $1 billion since 2014.
As thousands of migrants remain trapped in Greece the country finds itself at the coalface of Europe's refugee crisis. It is hoping last month's refugee deal between the European Union and Turkey will reduce the numbers arriving on its shores. But another problem may be brewing for the embattled country. The Greek financial crisis, which flared up so ferociously last year, culminating in a third bailout for the country, is threatening to resurface.
WASHINGTON
He called for "a new foreign-policy direction for our country-one that replaces randomness with purpose, ideology with strategy and chaos with peace." The businessman didn't mention if the same principle will apply to his rallies or harum-scarum campaign.
With his campaign for the Republican nomination seemingly at death's door, Ted Cruz is trying one last time to make a comeback - by naming Carly Fiorina as his vice presidential pick. "After a great deal of consideration and prayer," Cruz said at a Wednesday afternoon rally in Indiana, "I have come to the conclusion that if I am nominated to be president of the United States, then I will run on a ticket with my vice presidential nominee Carly Fiorina."
Senate Democrats unexpectedly blocked a major spending bill for energy and water programs Wednesday to prevent a vote on a Republican amendment that would ban U.S. tax dollars from being used in the future to buy heavy water from Iran. Needing 60 votes to advance, the motion fell 50-46.
Obama was speaking in Germany when he said: "We are fortunate to be living in the most peaceful, most prosperous, most progressive era in human history." He noted it's been decades since the last war between major powers. Pentagon analyst Robert Maginnis, however, has no problems coming up with more than half a dozen bloody conflicts around the world right now. "The civil war in Libya, certainly the civil war in Egypt, you have Congo, you have Sudan, you have Nigeria, most of Tunisia and Algeria are in chaos, certainly Syria and Iraq," he lists.
NWO GLOBAL GOVERNMENT, ISLAM & SHARIA
Although Jordanians are not in favor of sealing their borders to their suffering neighbors, they are clearly frustrated with the situation. At the end of 2015, unemployment among the roughly seven million citizens was at 13 percent. With more than one million Syrians living here, in addition to large numbers of Palestinian refugees who arrived in the 1950s and Iraqis who arrived since the 1990s, the ongoing Syrian crises is a source of tension. Tourism has declined precipitously in the last years. All of this makes continual care for Syrian refugees very difficult to handle.
NATURAL & MANMADE DISASTERS
"There's been a bit of excitement on White Island! "A minor eruption last night...normally White Island does lady volcano farts (or "Windy Pops"), but last night she did a ripper loud one!"
WORLD & MIDDLE EAST
Watching The Nations Amass Against Israel
NEWS DATE: 04/28/16
IN ISRAEL
An IDF battalion commander stationed on Israel's border with Lebanon on Wednesday said the Hezbollah terror group's recent activity was "reminiscent of what they did before the Second Lebanon War." In an interview with Channel 2, Lt. Col. Eliav Elbaz described how Hezbollah was "obsessively" monitoring Israeli soldiers from across the border. "The other side is obsessively gathering [information] about everything happening here, everything our security forces [are doing]," Elbaz said. "Right now they're up to their necks in the war in Syria, but we still see them walking around" and scouting the Israeli positions, he said. It's "reminiscent of what they did before the Second Lebanon War," he added.
Internationally renowned legal experts do not agree with the UN resolution and emphasize that Israel has, in fact, a legal claim to the Golan Height. One of them was the late Professor Julius Stone who wrote after the Israeli decision to annex the Golan Heights: "There is no rule of international law which requires a lawful military occupant, in this situation, to wait forever before (making) control and government of the territory permanent. Many international lawyers have wondered, indeed, at the patience which led Israel to wait as long as she did."
The United Nations Security Council (UNSC) will discuss providing international protection for Palestinians during an informal May 6 meeting, PLO Ambassador to the UN in New York Riyad Mansour said on Wednesday. "We would like to see an international force to separate between us and the Israeli occupying authorities," Mansour said. Such a step is not feasible at this time, so it is possible for the UNSC to take a smaller step to help the Palestinians, he said.
Representative to the United Nations Riyad Mansour held a press conference on Wednesday in which he slammed Israel for "labeling" Palestinians terrorists and drew a comparison between the Jewish state and the Third Reich. Mansour told reporters at the event that Israel's ambassador to the UN, Danny Danon, is trying to paint "all the Palestinian people who have legitimate rights to resist the occupation in legitimate ways," as terrorists. "Guess what?" he added. "All colonizers, all occupiers, including those who suppressed the Warsaw [Ghetto] Uprising, labeled those who were resisting them as terrorists."
Erdogan, who was visiting the Croatian capital, Zagreb, told reporters that the two teams would discuss proposals for humanitarian relief to the Gaza Strip, including an offer to supply electricity from a ship docked in Israel. The Turkish president said the two countries are looking at setting up a series of water and electricity supply projects in the Gaza Strip to fulfill Turkey's terms for reconciliation.
WARS & RUMORS THEREOF
Barely two months after the United States and Russia joined together to forge a partial cease-fire in Syria, cooperation between them, including on a long-term political solution to that country's civil war, is rapidly eroding.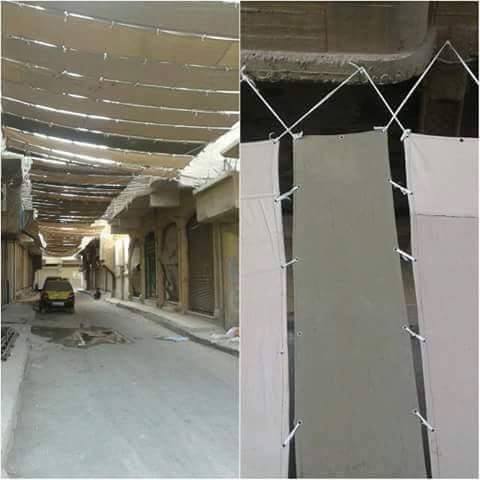 The Islamic State (ISIS) militant group is covering up the streets of Raqqa using sheets tied across the tops of shopfronts and residences in a bid to protect against deadly drone strikes on its fighters, according to activists and the U.S.-led coalition. The activist group operating inside the city, Raqqa is Silently Being Slaughtered, shared images on Tuesday that showed the radical Islamist group's tactic to limit the U.S.-led coalition's visibility of the group's fighters from above.
According to the Russian permanent mission, NATO forms a new confrontation line in the Black Sea, attributing it to a "Russian threat". As the permanent mission claimed, Russia prepares retaliatory measures. "Russia will undertake all the necessary measures to neutralize threats that occur."