US NEWS
Watching The Fall Of Mystery Babylon
01/28/15
US & WORLD ECONOMY
From the makeup of his cabinet to an early warning sent to the European Union over Russia policy, Greece's new prime minister, Alexis Tsipras, on Tuesday signaled a sharp shift in direction for Greece as he unveiled the first government led from the far left in the country's modern history.
The European Union and the United States are poised to accept each other's rules on financial derivatives trading in a bid to prevent a global market that supports economic growth from fragmenting, a senior EU official said on Tuesday. Organizing the corral after the horses got out.
Russia and China now cooperate and coordinate to an unprecedented degree — politically, militarily, economically — and their cooperation, almost without deviation, carries anti-American and anti-Western ramifications.
WASHINGTON
New video obtained by an Israeli news organization provides incriminating evidence of Iran's nuclear weapon ambitions. It also indicates the country is pursuing an aggressive long-range missile program with worldwide implications. The footage taken from satellite images by Israel's Eros-B satellite reveals a 27-meter, or nearly 90-foot missile. This never-before-seen missile and launch site stand outside Tehran appear capable of sending a rocket into space or being used as an ICBM to launch an attack on a long-range target. Some reports indicate the Pentagon estimates it may have been two years in development.
Obama's campaign team is working to defeat Benjamin Netanyahu in Israel's upcoming elections. To make matters worse, the anti-Netanyahu campaign is benefiting from U.S. taxpayer money.
Barack Obama and first lady Michelle Obama made a quick stop in Saudi Arabia on Tuesday to pay respects to the late King Abdullah, and to hold meetings with the new leader, King Salman bin Abdulaziz. But one aspect of the encounter stood out to reporters covering the receiving line at the palace: the first lady shook hands with the king. Islamic law generally forbids men from touching women to whom they are not related. However, that rule is often times overlooked when official diplomatic delegations visit the kingdom. Remember the bowing of the newly elected usurper in the White House? Since that time, Obama's hubris has gotten the best of him making him disloyal to his suzerain. Now the Saudis are miffed at him. Even so, they are working with Obama for the opportunity to control the oil market. He is, at least, giving them that!
Obama's opening to Cuba has accelerated a surge in Cuban migration to the United States, the latest U.S. statistics show, as many on the island grow worried that America's long-standing immigration benefits for Cubans are now in jeopardy.
NWO GLOBAL GOVERNMENT, ISLAM & SHARIA
Blaming Israel... For Everything... Again...
Who has a vested interest in blaspheming both Christianity and Islam as part of a world-wide ideological and political game plan? Clearly, it is the global Zionist network which desires to assert the Talmudic doctrine of Jewish racial supremacy on a global basis, and to convince comatose Westerners that their primary enemy in the world is Islam, and not the Zionist hijacking of their own banking system, culture, government, media, and educational establishments.
The Lausanne Movement, the world's leading Christian evangelism movement, has once again taken aim at what it believes to be the sinful practice of Christian support for the State of Israel, or Christian Zionism. "For over 60 years, many evangelicals have clung to a very narrow theological narrative that weds Christian theology with a political ideology known as Zionism," writes Steve Haas, vice president of World Vision US, in the latest issue of Lausanne Global Analysis. He went on to compare Christian Zionism to the Spanish Inquisition, the Crusades, Apartheid South Africa and other large-scale atrocities to which Christians were party. The LORD will be counting the votes of those who reject His Altar and His Kingdom.
WORLD & MIDDLE EAST
Watching The Nations Amass Against Israel
01/28/15
IN ISRAEL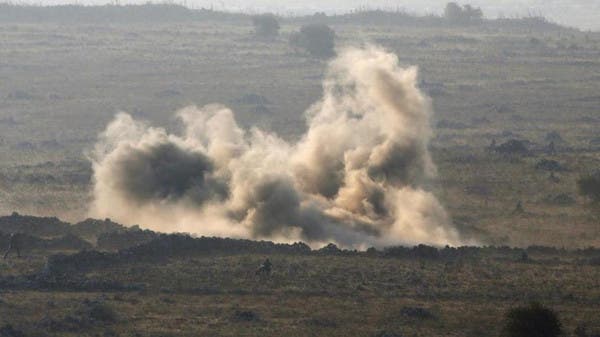 Two Israeli soldiers were killed and seven were injured in Wednesday's Hezbollah missile attack on Israel's border with Lebanon, Israeli military spokesman Lt. Col. Peter Lerner said on Twitter. New fighting in the Golan Heights led Israel to evacuate civilians Wednesday from the town of Mount Hermon. Netanyahu warned that his country is prepared to respond to attacks in the region.
It is no longer a secret that there has been swift rapprochement between Hamas, Hezbollah and Iran. The crowning move would be for Khaled Meshaal, head of Hamas' political bureau, to visit Tehran for Hamas to completely return to the Axis of Resistance. What is new in the relationship between Hamas and Hezbollah is what Hezbollah Secretary-General Hassan Nasrallah announced on TV on Jan. 15 regarding Hamas' having serious intentions to redress its relationship with Hezbollah and Iran. Nasrallah said this decision was a central one taken by the Hamas leadership locally and abroad, and that bilateral relations have come a long way.
Diplomatic sources Tuesday said that the US asked the Palestinian Authority leadership to delay its plans to resubmit the Palestinian statehood resolution to the UN Security Council until after the national elections in "Israel" on 17 March.
Israel's Channel 10 reported this month that Labor leader Isaac Herzog approached two Arab party leaders, Ra'am-Tal's Ahmed Tibi and Hadash's Mohammed Barakeh, about joining a government he'd lead or supporting it from the sidelines to create the critical mass needed to deny Netanyahu a fourth term. While neither confirmed the report, they didn't rule out acting to block another Likud-headed coalition.
According to the figures, 5,658 Israeli Jews visited the Temple Mount in 2009. Then the number rose steadily year by year to a high of 10,906 in 2014.
WARS & RUMORS THEREOF
Jordan has accepted a key demand of Islamic State (Isis) militants holding a Japanese journalist and Jordanian pilot by agreeing to release a prisoner in a proposed swap. A government spokesman said Jordan had agreed to free Sajida al-Rishawi from death row if Jordanian pilot Muadh al-Kasasbeh – being held by Isis – is released. There has been no word on whether Kenji Goto, a Japanese journalist who has appeared in videos released by the terrorist group, is involved in the proposed deal.
The strikes around Kobani hit 12 Isis tactical units and a vehicle, and destroyed nine fighting positions, a staging area and three buildings, the Combined Joint Task Force said in a statement.
Yemeni rivals agreed on Monday to form a salvation national government, according to reports coming from Sanaa, Al Arabiya News Channel reported. U.N. envoy Jamel Benomar had earlier met with leaders of Shiite Houthi militia who seized the presidential palace last week, plunging the impoverished Arab country deeper into crisis. The events in Yemen are significant. The Houthis are a Shia group backed by Iran. Yemen is a proxy battleground between three enemies: The Islamic State and relations between the US and Iran. In this case, Iran won the day. In fact, Iran is said to now be in control of four Arab capitals — Baghdad, Beirut, Damascus and Sanaa. Sunni Obama's effort to subdue the Shias by war and peace negotiations is failing.
Russia's reaction will be "unlimited" if the SWIFT payment system is used as an instrument against the country, Russian Prime Minister Dmitry Medvedev said Tuesday. "Yet again discussions have started in limiting the so-called SWIFT payment system. We'll wait and see what happens. Of course, if these decisions are made, I would like to note that our economic reaction as with any other reaction will be unlimited," Medvedev said during a meeting.
China will this year hold its first large-scale military parade since 2009 to mark the 70th anniversary of the end of World War II, reports said Tuesday, with one key goal described as being to "frighten Japan". One reason for mounting the parade was "to frighten Japan and declare to the world China's determination to maintain the post-war world order", said the article, written by Chinese financial and global affairs commentator Hu Zhanhao.