US NEWS
Watching The Fall Of Mystery Babylon
07/24/16
US & WORLD ECONOMY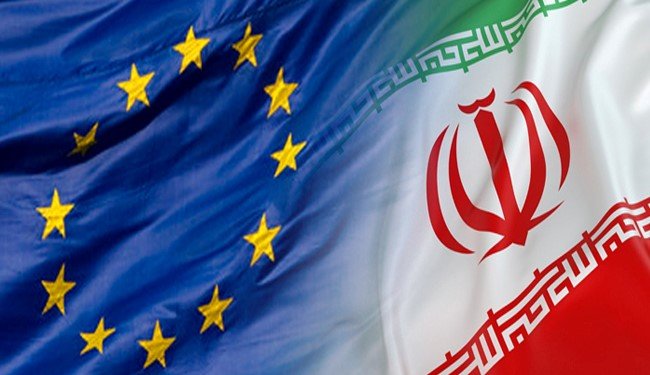 A delegation of European Union officials visited Iran from 11-14 July to discuss deeper cooperation in the fields of economic policy, trade, investment and finance. The European Union is the largest integrated market in the world, comprising over 500 million people and represents a major opportunity for two-way economic and investment flows. The visit was led by Eric Mamer, Director at the European Commission Directorate General for Internal market, Industry, Entrepreneurship and SME's. Meetings were held with counterparts in the Iranian administration, including the Ministry of Industry, Mines and Trade; the Ministry of Economy and Finance; the Central Bank; the Customs Administration and the Iranian Chamber of Commerce. Members of the EU delegation also included officials from the Commission Services for Trade, Economy and Finance, Taxation and Customs, External Action Service and representatives from the European Central Bank and the European Investment Bank.
Saudi Arabia has promised Russia foreign investments exceeding that from China and influence in the Middle East greater than the Soviet Union's Cold War-era clout in exchange for Moscow withdrawing its support from Syrian President Bashar al-Assad, but the Vzglyad newspaper doubts that it will happen. Saudi Arabia is rumored to have repeatedly courted Russia in the months after a foreign-sponsored insurgency in Syria turned into a full-blown war. Rumors circulated that in August 2013 Prince Bandar bin Sultan, the then secretary general of the National Security Council and director general of the Saudi Intelligence Agency, offered President Vladimir Putin an arms deal worth $15 billion in exchange for Moscow abandoning al-Assad.
WASHINGTON
Tim Kaine, the Virginia senator who has made the Middle East one of his fortes, her running mate. Kaine has been a vocal supporter of US security assistance to Israel but found himself at odds with the pro-Israel lobby and Prime Minister Benjamin Netanyahu over the Iran nuclear deal. During the fight over the deal, Kaine criticized Netanyahu on several fronts, but subsequently worked to improve ties between the prime minister and Senate Democrats. Is Kaine able?
"Close but complicated? Sin't that doublepeak for hatred of Israel given his record in Congress?
Kaine was among the first Democratic lawmakers to announce he would boycott Netanyahu's address to Congress in 2015 regarding the planned Iran nuclear agreement, which was signed later that year. Kaine's criticism of the Israeli government and snubbing of Prime Minister Binyamin Netanyahu's address to Congress have stirred fears among supporters of the Jewish state, who are concerned by the Senator's outspoken support for the Iranian nuclear deal and endorsement of the Obama administration's efforts to force Israeli concessions as a way to lure the Palestinian Authority back to peace talks.
BALAAM'S ASS SPEAKS
Secretary of State John Kerry said in Vienna on Friday that air conditioners and refrigerators are as big of a threat to life as the threat of terrorism posed by groups like the Islamic State. The Washington Examiner reported that Kerry was in Vienna to amend the 1987 Montreal Protocol that would phase out hydrofluorocarbons, or HFCs, from basic household and commercial appliances like air conditioners, refrigerators, and inhalers.
Obama broke from the tradition of hosting the annual Iftar dinner, an evening meal during Ramazan where Muslims break their daily fast, to celebrate the conclusion of the Islamic holy month instead.
NWO GLOBAL GOVERNMENT, ISLAM & SHARIA
A shooting spree has killed at least eight people at a shopping mall in Germany's southern city of Munich. Police warned of an acute terror situation in the city. A massive manhunt operation is underway as three gunmen are still at large.
Government spokesman Stephane Le Foll said after a government meeting Saturday that France's leadership is focusing on "adapting itself in all domains" to the evolving threat.
NATURAL & MANMADE DISASTERS
The temperature in Mitribah, Kuwait, surged Thursday to a blistering 129.2 degrees. And on Friday in Basra, Iraq, the mercury soared to 129.0 degrees. If confirmed, these incredible measurements would represent the two hottest temperatures ever recorded in the Eastern Hemisphere, according to Weather Underground meteorologist Jeff Masters and weather historian Christopher Burt, who broke the news.
A fast-moving wildfire that has already blackened some 11,000 acres (4,450 hectares) of drought-parched land northwest of Los Angeles was threatening some 1,000 structures on Saturday, fire officials said.
A dead kogia whale calf washed up at Fort Clinch in Nassau County Monday. Then a dead kogia whale was found dead in the area Tuesday.
WORLD & MIDDLE EAST
Watching The Nations Amass Against Israel
07/24/16
IN ISRAEL
President Vladimir Putin turns aside all Israel's complaints about Russian arms supplies to Iran's Lebanese proxy, Hizballah, whenever he talks to Prime Minister Binyamin Netanyahu - roughly every week-to-ten days. The issue is also raised without results by Israeli officials on trips to Moscow, including the visit by Yossi Cohen, Director of the Mossad, to the Russian capital on July 1. Nonetheless, Netanyahu persisted in complaining again about the Russian arms reaching the Lebanese terrorist group in his latest phone conversation with Putin on Saturday, July 23.
Huddled under 17 canopies along Tel Aviv's Rothschild Boulevard, some 250 Israelis and 250 Palestinians discussed and debated solutions to the Israeli-Palestinian conflict. "Ma'aleh Adumim is not going anywhere unless the Israeli government changes. This is the best answer I can give right now," stated an Israeli participant to a frustrated group of Palestinians at a "public negotiating congress" Friday in Tel Aviv.
Palestinian politician Haneen Zoabi is the foremost target of a controversial new law passed by the Israeli Knesset, which allows the parliament to expel elected politicians for alleged misbehaviour. The so-called expulsion law would allow a three-quarters majority of Knesset members to expel a politician if that person's views are believed to have incited racism or supported an armed struggle. Opposition leader Isaac Herzog denounced the legislation as a "dark mark" on Israel, while human rights groups have criticised it as anti-democratic and a clear attack on Arab politicians such as Zoabi, who has repeatedly clashed with Jewish MKs.
WARS & RUMORS THEREOF
n a new tactic against suspected coup plotters, Turkey on Saturday announced it had seized more than 2,250 social, educational or health care institutions and facilities that it claims pose a threat to national security. The health ministry said patients at hospitals that are being seized will be transferred to state hospitals, highlighting the sweeping impact of the government's crackdown after a failed July 15 coup attempt. A top Turkish official also accused some European countries of downplaying the grave danger posed by the failed insurrection, an apparent response to Western concerns about possible human rights violations in the government's crackdown. "Some European colleagues think this is a Pokemon game, this coup attempt," said Omer Celik, Turkey's minister for EU affairs. "Come here and see how serious this is. This is not something we play in a virtual game. This is happening in real time in Turkey." Right. This is not a Pokemon game. It is an "I want to be a dictator" game.
Boris Johnson states that Bashar al-Assad must leave in order to end Syrians' suffering Days after being appointed as the new British Foreign Secretary, Johnson boldly stated that Bashar al-Assad must step down from power in Syria in order to end the current civilian affliction - a statement which strongly differs from what he said back in December.
Afghanistan marked a national day of mourning on Sunday, a day after at least 80 people were killed by a suicide bomber attack on a peaceful demonstration. The attack was claimed by the Islamic State of Iraq and Syria (ISIS).
The Western pubic doesn't know it, but Washington and its European vassals are convincing Russia that they are preparing to attack. Eric Zuesse reports on a German newspaper leak of a Bundeswehr decision to declare Russia to be an enemy nation of Germany. This is the interpretation that some Russian politicians themselves have put on the NATO military bases that Washington is establishing on Russia's borders.
North Korea plans to upgrade its ballistic missile capability, as recent photos reveal progress on its dockyards, which will enable Pyongyang to assemble and house larger advanced submarines. The developments come after the country conducted an underwater missile launch earlier this month.