US NEWS
Watching The Fall Of Mystery Babylon
09/02/15
US & WORLD ECONOMY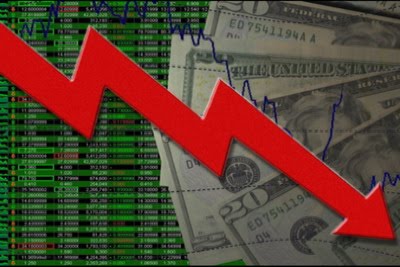 As Beijing counted down the hours until a massive Victory Day military parade on Sept. 3, China's President Xi Jinping prepared to welcome a stream of world leaders congregating for the goosestepping, missile-bristling commemoration of Japan's official surrender in World War II. There was only one glitch: when the Shanghai bourse opened on Wednesday morning, shares nosedived more than 4%. By the trading day's end, the exchange had almost clawed its way back to positive territory, closing down 0.4%, as regulators rushed forward with a grab bag of rescue measures.
Puerto Rico agreed on terms for restructuring up to $5.7 billion of bonds late Tuesday, even though its plans to propose a much broader debt moratorium remained delayed by a week. The new restructuring plan covers only the uninsured bonds of Puerto Rico's big public electric utility, an islandwide monopoly known as Prepa. Its outstanding bonds have a total face value of about $8.1 billion, but of that, about $2.4 billion are insured and not part of the agreement.
"For the last two years both precious metals have been been building a base, but each upside breakout was halted. Both gold and silver are again attempting to turn higher, Eric, and when they do, they will be resuming their long-term uptrend. Fortunately, the precious metals do have the wind in their sails. Aside from normal seasonal patterns that favor the precious metals going into year-end, there is of course all the volatility in financial markets worldwide, which benefit safe havens like gold and silver.
Amid the recent global economic slowdown and persisting domestic challenges in the country, South Africa's economy contracted by 1.3% in the second quarter of 2015, edging closer to a possible recession in the next quarter.
WASHINGTON
Sen. Barbara Mikulski of Maryland became the crucial 34th vote Wednesday morning, declaring the agreement is the best way to curb Iran's nuclear ambitions. Gee, thanks, Barb!
NWO GLOBAL GOVERNMENT, ISLAM & SHARIA
In disgusting audio broadcast via blogtalkradio yesterday, an individual who admitted affiliation with the Black Lives Matter movement called for listeners to murder white people and police, declaring it "open season" for such executions.
A Wyoming rancher facing more than $16 million in fines from the Environmental Protection Agency is preparing to take his case to federal court.
CERN is perhaps most famous for its discovery in 2012 of the elusive Higgs Boson [named after British physicist Peter Higgs who predicted its existence in 1964], the so-called 'God particle,' which allows other particles to build up mass as they pass through the Higgs field. Today, however, CERN is more famous – or perhaps infamous is the better word - for an upcoming experiment in which scientists will play God in an effort to recreate the conditions immediately following the 'Big Bang' event that gave birth to the Universe millions of years ago.
A recently discovered group of malware that infects jailbroken iPhones has gathered the login information for more than 225,000 Apple accounts, and is believed to be one of the largest breaches of Apple accounts ever. The malware, dubbed KeyRaider by its discoverer, found its way to victims via websites that hosted repositories of Cydia software. Cydia is an app that allows users of jailbroken iOS devices to access software and apps locked phones can't normally access. The malware then steals Apple account information by intercepting iTunes traffic from the device. I'm sure Apple and Samsung had NOTHING to do with that. They're happy when people jailbreak their phones, right? Wrong! Don't be surprised is tele corporations have something to do with this even though this article hints it was a Chinese hack.
NATURAL & MANMADE DISASTERS
Miserable mountain snowpacks have diminished rivers, lakes and reservoirs, cutting off the flow of water needed to irrigate crops in an arid climate. Farmers in some parts of Nevada have had no irrigation water for two years. Water is a precious commodity everywhere. Scientists at University of Nevada, Reno are studying alternative crops that use less water and could become increasingly important to agriculture of the future – particularly in the face of a warming climate.
The quake, which was six miles deep, hit 26 miles east of Okanogan and 25 miles north of Grand Coulee at 9:42 a.m. Tuesday, according to the Pacific Northwest Seismic Network. KIRO 7 meteorolgist Morgan Palmer said an earthquake of that depth was considered shallow and was likely felt as a jolt.
WORLD & MIDDLE EAST
Watching The Nations Amass Against Israel
09/02/15
IN ISRAEL
IRAN & THE PIECES PROCESS
The moment the Iran nuclear deal becomes law, as seems increasingly likely given growing congressional support for the agreement, the focus of the US-Israel conversation will shift to the question of what's next. For starters, Obama seems ready to offer an array of security enhancements. Among them are accelerating and increasing defense assistance to Israel over the next decade; increasing the US military presence in the Middle East; stepping up the enforcement of non-nuclear related Iran sanctions; enhancing US interdiction against disruptive Iranian activity in the region; and increasing cooperation on missile defense.
While all international attention is focused now on the upcoming implementation process of the Iran deal, many more diplomatic efforts and agreements will be required for the Middle East to stabilize. Regional stability will depend on how fundamentalist terrorism is dealt with, no less so by a resolution of the Israeli-Palestinian conflict.
BDS
The Israeli advocacy group Hallelu published on Facebook Monday a photo of the credit card, issued by DNB to one Alexander Joseph Beckett, showing an ugly, large-nosed Jew wearing a black coat and prayer shawl and smiling at a background of gold coins. DNB, which bills itself as "Norway's largest financial services group," said it was "very sorry" and had not chosen the image itself.
TEMPLE MOUNT
Top Muslim clerics claim Jews will try to build Third Temple during Sukkot visits to the Temple Mount. This year, some of those holidays coincide with Muslim holidays and Palestinian nationalist memorials. Yom Kippur and the Muslim feast of Eid al-Adha falls on the same day, and the anniversary of the eruption of the Second Intifada is during Sukkot. If the past is any indicator, the coinciding of Jewish and Muslim holidays spells trouble, particularly in and around Jerusalem. Already, Muslim clerics are working their flocks up into a frenzy over what they term the impending Jewish "invasion" of the Temple Mount. From the Israeli perspective, this is nothing short of incitement. Jewish groups always go up to the Temple Mount over Sukkot as it is a biblically mandated practice.
Israel's offshore gas reserves had long been regarded as a future cash cow for the resource-poor country, and gas exporters in Egypt were expected to be the key customers of Israel's yet untapped Leviathan field. But plans to develop Leviathan are suddenly up in the air after Italian energy company Eni SpA said Sunday it had found the "largest-ever" gas field in the Mediterranean Sea off Egypt's shores. The field is located in shallower seas than Leviathan, likely making it easier for companies to extract, in a country with none of the regulatory chaos of Israel.
WAR
Yoav Mordechai, the coordinator of Israeli government activities in the territories, accused the group of misappropriating supplies — particularly wood — for its terror activities. "Members of Hamas took over warehouses of construction materials and confiscated (them) for the benefit of the group's underground infrastructure," Mordechai said in a statement.
Prime Minister Benjamin Netanyahu convened a special high-level security meeting on Wednesday where it was decided to increase security forces in Jerusalem and on Road 443 from the capital to Mod'in, and weigh new open-fire orders on those throwing rocks and fire-bombs. "The policy is zero tolerance for rock throwers and zero tolerance for terror," he said, legislating a minimum punishment for those offenders, "since the legal system is having difficulty dealing with juveniles" engaged in those activities.
WARS & RUMORS THEREOF
Despite strong denials from Moscow, Russian airborne troops are preparing to land in Syria to fight Islamic State forces. The surprise attack on Monday, Aug. 31, by ISIS forces on the Qadam district of southern Damascus, in which they took over parts of the district - and brought ISIS forces the closest that any Syrian anti-Assad group has ever been to the center of the Syrian capital - is expected to accelerate the Russian military intervention. Moscow is certainly not ready to endanger the position of President Bashar Assad or his rule in Damascus, and views it as a red line that cannot be crossed. If Russia intervenes militarily in this way, Russia will be the first country from outside the Middle East to send ground forces into the Syrian civil war.
IS militants fought street battles against Islamist rebels in Asali, part of the capital's southern Qadam district, after seizing two streets there over the weekend, the Syrian Observatory for Human Rights said. "This is the closest IS has ever been to the heart of Damascus," Observatory head Rami Abdel Rahman said.
The organization says it appears to be "the deliberate targeting of our staff". Two Red Cross workers were fatally shot by an unknown assailant in northern Yemen on Wednesday, the organization announced. The employees were a field officer and a driver, both Yemeni nationals, who were traveling from the northern province of Saada and killed in the province of Amran, Reuters reports. "Two of our colleagues were shot and killed in their car … as they were traveling back Saada to Sanaa," Red Cross spokesperson Adnan Hizam said.
MIGRATION MESS
With over 700,000 Syrians suddenly thrown into the pot (nearly 10% of the total population in Jordan), the bubble of Jordanian prosperity could burst. Perhaps forgetting that many of them were themselves once refugees seeking shelter -- a hypocrisy almost ubiquitous in U.S. history -- Jordanian citizens have more than tired of watching foreign aid dollars be diverted from their usual streams and into the hands of needier Syrian refugees. This jealousy is most apparent in villages outside Amman, where poverty among Jordanians already runs quite high. To quell their unhappy citizens, Jordan has barred Syrians from obtaining legal work, from receiving certain medical services, and may soon disband all international NGOs whose primary work involves Syrians. But with almost one million homeless squatters in the country and an increasing fear of Daesh (arabic for ISIS) infiltrating their lands, something has to change.
Islamic State group fighters operating in the North Caucasus region of Russia attacked a Russian military base in the southern Dagestan region Wednesday, according to a tweet from Michael Horowitz, a geopolitical and security analyst at the risk consultancy firm Levantine Group. The alleged attack in the predominantly Muslim region comes after months of rumors that ISIS was attempting to recruit experienced fighters from the region to fight in Syria and Iraq.
Free article submission sites